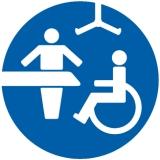 April 2017- Monthly Update
Another successful month for Changing Places registrations, as we creep ever nearer the 1000th Changing Places Toilet mark.
Click here for an easy read version of this update.
April saw success in getting another hospital to install a Changing Places Toilet, Ipswich Hospital in Suffolk is the latest to have sent through their registration. The Consortium and our local campaigners continue to target hospitals as locations to install Changing Places Toilets.
I met with two new Local Campaigners in my home County Suffolk, who are starting up a campaign to get a Changing Places toilet in West Suffolk Hospital in Bury St Edmunds.
Blair Drummond
Blair Drummond Safari Park is the first Zoo/Safari Park in Scotland to open a Changing Places toilet. PAMIS has been working with the Safari Park for a number of years now, together with a number of local families, to persuade them to install a Changing Places toilet.

Over the years, PAMIS has had lots of enquiries from schools asking for accessible venues for end of year outings. Finally, we can recommend a venue that is fully accessible and that has lots of wonderful animals, educational value and most importantly fun!
In May, the Scottish Stirling Marathon starts at Blair Drummond Safari Park and the Charity JAPES www.japes.scot are using specialised wheelchairs and a team of runners to allow people with complex needs the chance to experience the thrill of participating in a mass running event – the Changing Places toilets are essential for this event to take place. The provision of a fully accessible toilet at Blair Drummond is already opening up a host of opportunities for people with PMLD.
Supermarket News
More good news from TESCO's, we received a registration for another Changing Places toilet they have installed in their store in Milton Keynes.
We also received a registration from ASDA for their store in Barnstaple, which makes it their second store to have installed a Changing Places toilet.
We look forward to hopefully registering more in the future, and for other supermarkets to follow suit.
We have seen another venue not only choose to install one Changing Places Toilet but THREE, so we give a big THANK YOU to The Orchard in Middlesbrough.

News from East Anglia
I had a meeting with advocacy group Ace Anglia who are based in Suffolk. They have been one of the organisations who have helped shape the 'Joint Suffolk Learning Disability Strategy'. One area of this strategy is to help communities be more accessible for those with learning disabilities. Ace Anglia recognised that Changing Places Toilets is an important aspect in ensuring communities are full accessible.
Ace Anglia are going to be working with Changing Places to promote the need for more Changing Places toilets in the County. Currently they have been contacting local festivals and events in the County to encourage them to get Mobile Changing Places at their events.

Changes Places Toilet Registered this month
There have been 18 new toilets added to the map this month. There are now 971 Changing Places toilets listed on the current map from the end of April.
Broughton Community Hub, Broughton, North Lincolnshire, DN20 OJW
Hinckley Leisure Centre, Argents Mead, Hinckley, Leicestershire, LE10 1BZ
Ipswich Hospital NHS Trust, Heath Road, Ipswich, Suffolk, IP4 5PD
Brigg Recreation Centre, Wrawby Road, Brigg, Lincolnshire, DN20 8PJ
Sbectrwm Community Centre, Bwlch Road, Fairwater, Cardiff, CF5 3EF
Florence Shipley Community Care Centre, Market Place, Heanor, Derbyshire, DE75 7AA
Blair Drummond Safari Park, Stirling, Scotland, FK9 4UR
Tesco Milton Keynes, 1 Winchester Circle, Kingston, Milton Keynes, Buckinghamshire, MK10 0AH
Moto Services Exeter, M5 Junction 30, Sandygate, Exeter, EX2 7HF
Wingham Wildlife Park, Rusham Road, Shatterling, Kent, CT3 1JL
Asda Barnstaple, Taw Wharf, Barnstaple, Devon, EX31 2AA
South Woodham Ferrers Swimming Pool, Trinity Square, South Woodham Ferrers, Essex, CM3 5JU
Cleethorpes Leisure Centre, Kingsway, Cleethorpes, Lincolnshire, DN35 0BY
Devizes Leisure Centre, Southbroom Road, Devizes, Wiltshire, SN10 5AB
The Orchard (Ground Floor Main Corridor 1), Lansdowne Road, Middlesborough, TS4 2QT
The Orchard (Ground Floor Main Corridor 2), Lansdowne Road, Middlesborough, TS4 2QT
The Orchard (Ground Floor, Lilac Room), Lansdowne Road, Middlesborough, TS4 2QT
Ross Care Independent Living, Keppel Buidling, Ashton Road West, Failsworth, Manchester, M35 OLD