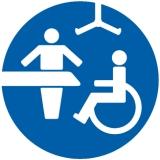 August 2017- Monthly Update
August has seen us receive a steady flow of registrations were we continue to hit double figures. As we come to the end of the summer, I hope that everyone managed to enjoy the brief spells of good weather we've had.
UK News
This month has seen us register new Changing Places Toilets from all the UK Countries. Northern Ireland providing us with two Wales also providing us with two, Scotland one and the remainder from England.
It's always great to receive registration from the rest of the UK nations.
Airports News
It's great to be able to let everyone know that another Airport has installed a Changing Places Toilet. Liverpool have installed a Changing Places toilet at the Liverpool John Lennon Airport, was registered this month.
Changing Places News
News from the Changing Places Consortium is that my, Joanne Connah has left the role of Changing Places Development Officer.
I was seconded over to work on the Campaign for 6months and agreed to extend the secondment for an extra 2months. I made the decision to go back to my role in Mencap as a support worker, as taking on this role has allowed me to see that my true passion lays in directly supporting individuals with LD.
During my 8 months of working on the Campaign I have become a passionate Campaigner and advocate of Changing Places Toilets. I will always remain passionate about the Campaign and an active campaigner within my local area.
I want to say a huge Thank you for the support received from everyone involved in Changing Places, whilst I was finding my feet and developing my knowledge of the Campaign. I feel extremely privileged knowing I got to Register the 1000th Changing Places Toilet and place it onto our Map.
Campaigner News
We have been supporting and sharing the petition and campaign by Zack, to get Changing Places Toilets installed in all motorway service stations.
You can read more about his Campaign in Zack's blog on our website.
Unregistered Changing Places Toilets
Please continue to let us know if you spot any Changing Places Toilet which do not appear on the Map, by contacting ChangingPlaces@mencap.org.uk
Changing Places Registered this month:
There have been 16 new toilets added to the Map this month. There are now 1031 Changing Places toilets listed from the end of August 2017.
Harlow Town Park, 6 Park lane, Harlow, Essex, CM20 2QQ
Storyhouse, Hunter Street, Chester, Cheshire, CH1 2AR
Centre:MK, Guest Services, 24 Silbury Arcade, Milton Keynes, MK9 3ES
County Hall Shopping Mall, Southgate Avenue, Crawley, RH10 1FP
Antrim Area Hospital, 45 Bush Road, Antrim, Northern Ireland, BT41 2RL
The Sill National Landscape Discovery Centre, Once Brewed, Nr Bardon Mill, Hexham, Northumberland, NE47 7AN
Pedal a Bike Away, Cannop Valley, New Road, Coleford, Gloscestershire, GL16 7EH
Dunfermline Carnegie Library & Galleries, 1-7 Abbot Street, Dunfermline, Fife, Scotland, KY12 7NL
St Fagans Museum Visitor Centre, Cardiff, South Wales, CF5 6XB
St Fagans Pavillion, Cardiff, South Wales,
CF5 6XB
Newry Leisure Centre, Clanrye Avenue, Newry, County Down, Northern Ireland, BT35 6EH
Centre for Independent Living, Unit 11, Brickfields, Huyton Business Park, Liverpool, L36 6HY
Intu Lakeside Shopping Centre, West Thurrock Way, Grays, Essex, RM20 2ZP
Diana, Princess of Wales Hospital, Scartho Road, Grimsby, DN33 2BA
Liverpool John Lennon Airport, Speke Hall Ave, Liverpool, L24 1YD
Newark Council HQ & Civil Suite, NSDC Offices, Great North Road, Newark, NG24 1BL