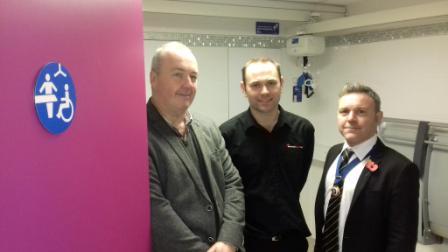 Brentwood Centre scores hat-trick
Three facilities for centre as we register the 900th Changing Places toilet in the UK.
We are delighted to announce that the 900th Changing Places has been registered at the Brentwood Centre in Essex. It is the first leisure complex in the UK to have three Changing Places toilets and is a testament to the centre's inclusive mission to become the most diverse and accessible leisure centre in the UK.
The new facility is within the brand new changing village and is an impressive addition to the centre's accessible environment.
Last month the Brentwood Centre hosted the official opening of the new accessible changing village in the swimming pool area at the Aquafest16 inclusive event.
The inclusive event was funded by a Get Active For All grant from Active Essex, to increase the number of disabled people across Greater Essex taking part in Sport and Physical Activity.
During the day, the deputy Mayor of Brentwood, Councillor Will Russell, visited the centre to see the new facilities and meet the Core Coach volunteers.
Cllr. Russell was shown around the changing village by Brentwood Centre CEO Roger Davinson and Commercial Development Manager Phil Thomas.
Centre manager Nicky Smith introduced Cllr. Russell to the Brentwood Centre Coach Core apprentices.
Councillor Will Russell, said: "The new changing facilities at the Brentwood Leisure Trust have provided much improved accessibility and greater use of space and light. It is now a far more welcoming environment. Praise must be given to the dedicated team that tirelessly endeavour to provide all inclusive sports and leisure facilities. The variety of activities included in Aquafest, which range from Scuba to Zumba, are a testament to their efforts."
Brentwood Centre CEO, Roger Davinson said: "After 30 years the Brentwood Centre Swimming Pool Changing Rooms have been refurbished with funding help from Sport England and Essex County Council's "Short Breaks" scheme. We are delighted to have been able to add a new Changing Places toilet into the area which is the third Changing Places at the Brentwood Centre."
Centre manager, Nicky Smith added: "Along with energy saving initiatives, the new changing village is fully inclusive providing ample changing for individuals, families, members who use wheelchairs and those needing assistance. This development has come soon after Brentwood Leisure Trust launched its Inclusive Pledge, to make the Brentwood Centre accessible and adaptive for all users".
AVESO
, Official Changing Places sponsor said: "We are delighted to have been involved with Brentwood leisure centre and the installation of their Changing Places project. We commend any business looking to install a Changing Places toilet but to install three shows their true commitmnet to the campaign and the users that so desperately need these facilities."
The changing village and Changing Places toilet were provided with Inspired Facilities funding from Sport England, The National Lottery, Brentwood Borough Council and Essex County Council's "Short Break" scheme.