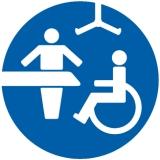 June 2017- Monthly Update
We are only 7 registrations away from reaching 1000 Changing Places toilets across the UK! Make sure you are keeping a close eye on the number over the coming weeks and be ready to celebrate when we hit 1000.
You can read an easy read version of this update here.
Queen Elizabeth Olympic Park
On the 7th June Changing Places Development Officer, Joanne Connah, was given access to inspect any potential Changing Places Toilets across the Olympic Park in Stratford, London. Joanne was able to register two with the Olympic Stadium and two within the Copper Box Arena.
Registering the toilets within the Olympic Stadium means, that now 7 out of the 8 Premier League football clubs which have Changing Places toilets are now registered and showing on our map.
Changing Places Awareness Day
Next month on 19th July will be Changing Places Awareness day. A chance for all our local campaigners, venues with Changing Places toilets and all those passionate about the campaign, to make some noise and spread awareness of the campaign.
Unregistered Changing Places
Please continue to let us know if you spot any Changing Places toilets which do not appear on the map by contacting ChangingPlaces@mencap.org.uk
Changing Places Registered this month
There have been 4 new toilets added to the map this month. There are now 993 Changing Places toilets listed from the end of May 2017.