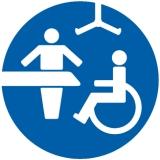 March 2017- Monthly Update
It has been a busy month with a lot of Changing Places activity and registrations taking place. We have passed the 950 mark and continue to make excellent progress towards hitting the 1000 Changing Places Toilet mark in 2017!
Click here for an easy read version of this update.
Premiership Football Clubs
Consortium member Mencap launched a Campaign calling on Premiership football clubs to uphold their promise made in 2015 to install Changing Places toilets by August 2017.
Currently only 7 Premiership clubs have a Changing Places toilet within their stadiums. We ask that our campaigners continue to keep pressure on the other 13 clubs to install.
We had some great media coverage and really positive responses to the campaign. You can read some of the coverage from the links below:
Alton Towers
We look forward to continuing to work with Merlin Entertainments and hope to see them install a Changing Places within all there UK attractions.
We think it is great when a venue installs one Changing Places toilet but when a venue goes above and beyond and installs multiple Changing Places then we believe this is worth celebrating.
New Changing Places
There has been 26 new toilets added to the map this month. There are now 954 Changing Places toilets listed on the current map.