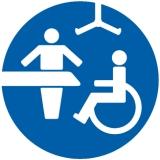 May 2017 - Monthly Update
We are only 13 registrations away from reaching 1000 Changing Places toilets across the UK! Make sure you keep a close eye on the number over the coming months, and be ready to celebrate when we hit 1000.
You can download an easy read version of this update here.
News from Northern Ireland
Changing Places has seen its first registration of the year from Northern Ireland. Bringing the total number of registered Changing Places toilets in Northern Ireland up to 16.
Olympia Leisure Centre in Belfast sent us through their registration this month.
We look forward to registering more Changing Places Toilet in Northern Ireland.
Football News
This brings the total number of Premier League football clubs who have Changing Places toilets up to 8, with 6 of them being registered and showing on our map. There are still 9 premiership football clubs who signed up to the accessible stadia pledge back in 2015 but are yet to provide a Changing Places toilet within their stadium.
Hospitals
Torbay and South Devon NHS Trust have installed a Changing Places toilet. We now have 42 Changing Places toilets based within Hospitals.
Unregistered Changing Places Toilets
Changing Places Registered this month
There have been 18 new toilets added to the Map this month. There are now 988 Changing Places toilets listed from the end of May 2017.