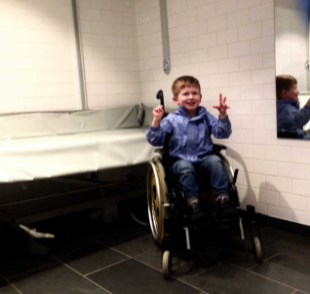 In lots of ways our family is just like your average family. Two frazzled, but happy parents and two happy-go-lucky children – Brody, 5, and Sydney, 2. But our family faces a big problem on a daily basis that probably hasn't ever crossed your mind.
My son Brody is disabled and as a result of his disabilities is doubly incontinent and still wears a nappy. When you have a baby, you don't tend to envisage them in nappies past the age of 2 or 3. But I can tell you that when your child still wears nappies at 5, life beyond fitting on a baby changing table can be both frustrating and isolating. And it will only get harder for us as Brody becomes bigger and heavier.
Imagine going out for the day with your family and there being nowhere for any of you to go to the toilet.
There are thousands of children and adults in the UK who require an adult sized changing bench in order to go to the toilet. Their parents or carers require a hoist in order to put them safely on to the changing bench and/or on to a toilet without hurting themselves or their loved one.

Sadly, there aren't nearly enough changing places toilets in the UK and so families like mine are left with limited options, such as:-
- Changing their loved one in the car boot.
- Changing their loved one on the toilet floor
- Leaving their loved one in a dirty nappy
- Leaving a day out early to return home
- Not going out at all.

Believe it or not, some disabled people medicate themselves in order not to go to the toilet when they go out or risk dehydration and urinary tract infections by not drinking.
Why am I telling you this?

To raise awareness of the issue but to also raise awareness of a fantastic changing places toilet that the Scottish Forestry Commission has at their visitor centre at Kirroughtree, Galloway Forest Park.

It may sound a little over the top, but this facility means a great deal to my family and I want others to know about it.

We holiday in Carrick every year and part of the reason we love the area is simply because we know there is a changing places toilet nearby. It means that much.

It means we feel included when we visit the centre.
It means when we are in the area, we know that we can visit Kirroughtree and change Brody, if need be.
It means we don't have to use our car boot, which offers our son very little dignity.
It means that we don't have to disappoint our children and return home early when we are enjoying a day out.
Kirroughtree is a lovely site. It has a play park, café and a fantastic accessible walk, where the gravel path is wide, flat and firm for wheelchairs and buggies.
There are no obstacles, just lovely views. It even has an accessible wild watch hide. If you're visiting the area, it is really worth a visit.
The changing places toilet is such a great facility and one that should be shouted about so that everyone who needs it knows it's there. That they are welcome and included.
Thank you Kirroughtree Visitor Centre for thinking of families like mine. Accessibility makes all the difference.